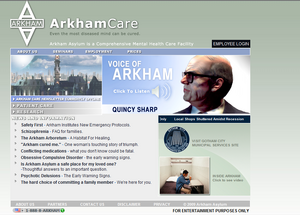 ArkhamCare is the public face of Arkham Asylum. Presenting itself as a family friendly establishment, the ArkhamCare website features information on various programs and costs for commiting a patient to the asylum.
The website also acts as the facility's home-site, featuring an employee login used by Arkham employees to access their computer files and documents.
Incident Reports
Following the destruction of Blackgate Penitentiary, the Riddler, acting under an assumed identity, coerced various individuals to hack the ArkhamCare website and Arkham employee files in a bid to find proof of Quincy Sharp's involvement in the penitentiary's destruction. In reality, the Riddler was using their attempts to gain further access into Arkham's computer systems in preperation for the Joker's take over of the island.
Behind the Scenes
Gallery
Trivia
As part of a viral marketing scheme for Batman: Arkham Asylum, ArkhamCare had an actual working website: [1]. The website can be heard advertised in the Medical Center's PA system. Unfortunately, the website has been taken down and does not exist anymore.
Frank Boles Pass: 125845712
Dr. Gretchen Westler Pass: HOROWITZ
Dr. Wendi Maga Pass: peter68
Dr. Sarah Cassidy Pass: garianne
Dr. Stephen Kellerman Pass: edinburgh
Dr. Penny Young Pass: dione
Quincy Sharp Login: qsharp187 Pass: amadeus
Botanical Garden Feed
Sec 3: nightshade
Tv, 1q, t0, zF for first compound. Q2, gL, bM, hF for second compound. xR, c2, Pe, xZ for third compound. Open the arkham shell by pressing CTRL+Shift+G