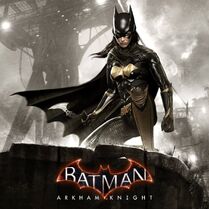 Batgirl: A Matter of Family is one of the six Arkham Episodes from Batman: Arkham Knight, a prequel story that takes place before the event of Batman: Arkham Asylum. Barbara Gordon suits up and teams up with Robin to save her father, Commissioner James Gordon, who has been kidnapped by the Joker. It was released for Season Pass owners on July 14, 2015 and was released for the general public on July 21st, 2015. Getting the DLC unlocks Batgirl for all Challenge Maps.
Incident Reports
At one point before the Batman: Arkham Asylum, Joker ambushed Gordon and his colleagues at GCPD, then took them hostages at the Seagate Amusement Park. Batgirl teams up with Robin to save Gordon from Joker and Harley Quinn. The duo make their way to the park post haste.
They make it into the park despite the gondolas leading to the park is blown up by Joker. Using the Remote Control Batarang, Batgirl scans the park for hostages and found them being kept at the three main attractions, "The Merry Go Round," "The Ghost Ship," and "The Big Blue Ferris Wheel." She proceeds to rescue them from each attractions, each posing a different challenge.
Throughout the night, Robin detects multiple caches of explosives rigged to blow, and they can only be diffused by Batgirl with her Remote Hacking Device. It is revealed that Joker has planned this whole operation out of concerning the mental well-being of Batman, going so far as to help cure his "Baby-brain," by removing every other members of the Bat Family, dubbed "the babies."
After Batgirl has rescued all the hostages, Robin tracks down the location of Gordon and leads her to him. They arrive at the big tent with Joker and his gangs waiting for them. The duo overcomes the adversaries and came out on top, just in time for the GCPD squad to storms in and secures the place. Joker holds Harley hostage, while making his way to the edge of the park, and parachutes into the water toward Gotham City. Harley is apprehended in the background, while Robin wanted to confess his feeling towards Batgirl, but Gordon interrupted them. The two quickly sneaks away as Gordon is distracted. He casually makes a remark afterwards, suggesting that he is aware of the true identity of Batgirl.
Cast And Characters
Gameplay Changes
Gallery
Trailer
Trivia
External Links