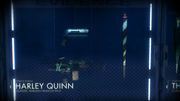 Harley Quinn had major weapons in the Arkham Games.
Assault on Arkham
Harley used her gray metal bat to fight the Arkham Asylum security guards, but she replaced it with Joker's mallet.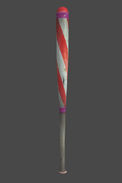 Arkham City
Harley used her Bat against Batman to knock him out when Joker was pretending to be dead. Her bat was a normal bat with white and red circles all over it.
Arkham Knight
Harley used the same bat to knock out Henry Adams. Harley used a different bat in her gameplay style. It was a metal bat instead of a wood bat and it was gray and red with some dents.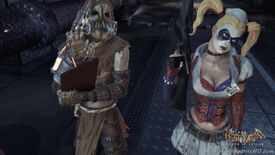 Arkham Asylum
Harley used an assault rifle when to control Commissoner Gordon at the Medical Facility and to kill some guards at the Intensive Treatment Center. After Batman defeated Harley and saved Gordon, she didn't use the assault rifle again (only in Scarecrow's 3rd Nightmare).
Machine Gun/ Grenade Launcher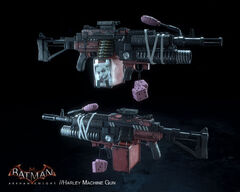 Arkham Knight
Harley's main weapon in Arkham Knight in the main mission. We didn't see Harley use it, only when Robin approached her, but she didn't fire it because Batman knocked her out. The machine gun was haphazardly duct-taped with a grenade launcher. It was decorated with pink dice, a pic of Joker, and female symbols.
Modified Flare Gun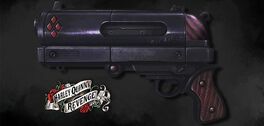 Harley's main weapon in Harley Quinn's Revenge. She used this gun to shoot Batman and put him into a coma. Harley used it to shoot Robin when he was looking for the key to save Batman, and she used it when Batman was fighting against her robots. Her gun was decorated with diamonds symbols and it's called the "Bat Killer".
Warden's Cane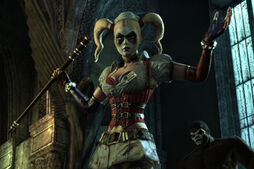 Arkham Asylum
She used Warden Sharp's cane against himself when Batman was stunned with the explosion that killed Dr. Young.
Jack in the Box
Arkham Knight (Harley Quinn's Story Pack)
Harley uses the Jack in the box to attract enemies to later kill them with the jack in the box explosion, she can use it to stun guards with you use it the quick mode. The box is red and all covered with diamonds inside it has a dummy, you only see the dummy when the jack in box will explode.
Arkham Knight
Harley left in the Panessa Studios 15 Jack in the Boxes to Batman destroy them.
Arkham Knight (A matter of family DLC)
The fuction of the Jack in the box in this DLC is different because the didn't explode instead the only open the box carrying a message from Harley laughing saying for example "Is just me or do you just keep falling for our tricks?!". In this DLC the Jack in the boxes are bigger.
Snare trap
Arkham Knight (Harley Quinn's Story Pack)
Harley uses the snare trap to bind or stop charging enemies and when you throw it took the form of confetti. 
Laughing Gas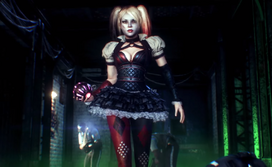 Arkham City (Harley Quinn's Revenge DLC)
Harley used Smilex or Laughing Gas to her bombs but Batman defused them.
Arkham Knight (Harley Quinn's Story Pack)
Harley used Laughing Gas grenades to escape from armed guards and stun them. This grenade is equivalent and has the same function to Batman's smoke bomb.