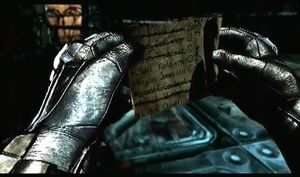 The Joker's Party List is a list of potential Arkham Asylum inmates that The Joker hoped to "invite" onto Arkham Island to confront Batman during the island's takeover.
After he confronts and defeats Harley Quinn in Extreme Incarceration at the Penitentiary, Batman comes into possession of the list which he took from her. On the list, Harley made pictures about her and the Joker falling in love and also about Batman's grave site. Several names on the list are marked through and have frowning faces beside them. Those that aren't struck through, have smiling faces beside them. When Batman asks what the faces mean, Harley tells him to figure it out himself.

Invites
Meanings
It could be deduced that the smiles mean inmates who are on the Island, and frowns are inmates off of Arkham Island. This is due to the fact that all of the inmates with smiles next to their names appear on the island during the game, and the ones with frowns are off of the island. Karlo and Oliver are still locked up in their cells, and Jones is in the sewers. Apart from Harvey Dent (robbing a bank), the others' whereabouts are unknown.
However it is noteworthy to point out that Mad Hatter is indeed on the island during the events of the breakout, locked up underneath Arkham Island, in Hugo Strange's special cells for the most dangerous inmates. However this is unknown to Joker at this time.