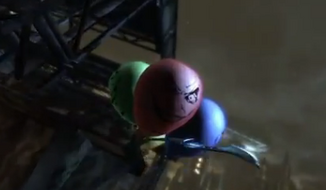 Joker Balloons are part of a small challenge to pop a small, tied down group of balloons with devious smiles on them.
They are similar to the TYGER Security Cameras, mounted objects that you must destroy for The Riddler's Challenges.
Incident Reports
Batgirl: A Matter of Family Incident
Multiple patches of Balloons were strung around Seagate Amusement Park. Destroying them all, along with Joker Teeth and Harley Quinn's Jack-In-A-Boxes are required for a achievement/trophy.
Arkham City Incident
Small groups of Joker Balloons are scattered around Arkham City. They are part of Riddler's Challenges and encompass bits of the Industrial District and Amusement Mile.
Gallery
Trivia
The balloons can be popped with the Batarang, REC, Freeze Blast, or just by passing over them while gliding.
Balloons also appear in Arkham Knight, but are purely decoration. They can be popped just like Joker's Balloons.