Miagani Island is one of the three islands of central Gotham City. It's located south of Bleake Island, and east of Founders' Island.
It consists of three primary districts. Grand Avenue, which has many retail stores and entertainment facilities. The other two districts, Bristol and Kingston, consist of small entertainment districts and retail outlets.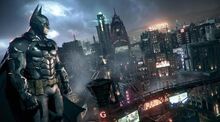 Additionally, the in-game map recognizes the surroundings of Wayne Tower as it's own district. It is located on a small island only a short distance off the main island, and is accessible via two short bridges, one of which leads to the parking garage below the building. The ground level of the tower also had several retail stores.
Geography
Miagani island is the southernmost island in central Gotham. It is the most urban populated area in central Gotham, with some of the tallest buildings in the entire area such as Wayne Tower.
Districts
This island consists of three inner districts:
Grand Avenue - Gotham's central business and shopping district, that houses a number of companies that operate throughout the city. Major locations include:

Grand Avenue Station;
The Gotham City Herald Building;
The Midtown Mall;
Wayne Tower;
The Twelve Tree Tower;
The Sartorico building;
Whesker Theater;
ORB Theater;
Klyce Theater;
Lacy's Department Store;
The Black Canary Club (casino);
The Gotham Globe;
The Gotham Tonight building;
GCR building;
Soder Cola building;
Kaul Brau building.

Kingston District: A district on Miagani island, that is comprised mainly of retail outlets and small entertainment facility's. Major locations include:

Bank of Gotham (Kingston branch);
Ranelagh Ferry Terminal;
Grand Avenue parking;
Ferris Mall;
Harold's Repair Shop;
The Heavenly Hotel;
Gambi Store.

Bristol: A district on Miagani island that is comprised mainly of retail outlets and small entertainment facility's. Major locations include:

Elliot Memorial Hospital;
Pinkney Orphanage;
Urbarail Station;
Miagani Island Botanical Gardens;
Bristol Fire Station;
Hell's Gate Refusal Service.
Trivia
Miagani's early inhabitants were known to worship bats.

This is also the first island upon which Man-Bat was encountered.

According to Poison Ivy, the inhabitants called the second tree Batman helps revive Aiyana.
The Miagani were a Native American tribe mentioned in the 1988 graphic novel Batman: The Cult. The Miagani were those who first encountered Deacon Blackfire and shut him away long before Dutch settlers arrived in what would later become Gotham City.