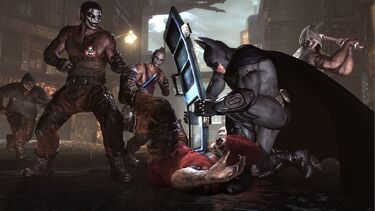 Riot Shields are weapons used by enemies from Batman: Arkham City, Batman: Arkham Origins, and Batman: Arkham Knight. They render their carrier untouchable by regular attacks, which forces the player to use advanced tactics against them. The easiest way to attack their carriers is to perform a Cape Stun, and then perform an Aerial Attack. They can also be taken out with a Special Combo Takedown, and the shield can be destroyed with the Disarm and Destroy move.
Incident Reports
Batman: Arkham Origins Incident
Enemies used shields even during Batman's second year as a vigilante. The first shielded enemy was fought after exiting the Lacey Towers crime scene.
Batman: Arkham City Incident
Enemies still used Shields during the Arkham City Incident. Batman first encountered them during his visit in the sewers under Arkham City.
Batman: Arkham Knight Incident
Shields were still being used by enemies during the events of Arkham Knight. Militia Brutes would use their suits tech to activate the shield.
Notes
While performing an Aerial Attack on a shielded Henchman, the character could not be hit by other enemies. This was not the case when performing the move to other enemy types.
Community content is available under
CC-BY-SA
unless otherwise noted.