The Shotgun is a weapon that appeared in Batman: Arkham Asylum, Batman: Arkham City, Batman: Arkham Origins, and Batman: Arkham Knight as a weapon in the hands of both inmates and military.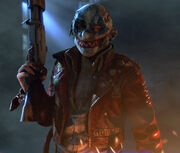 Appearances
The Shotgun appeared in every Arkham game. It was the second most commonly used firearm in-game that was wielded by a small number of guards and a decent number of henchmen. It fired multiple pellets with each pull of the trigger, which made it a deadly weapon to encounter at short-range, but it had to be pumped after each shot.
The Shotgun returned in Batman: Arkham City, and still remain a threat in close-quarters. It appeared in closed environments, which made shots from it hard to evade. Like the Assault Rifle, it retained its stats from the previous game.
Trivia
The Shotgun looked very much like a Remington 870 and an Ithaca 37.