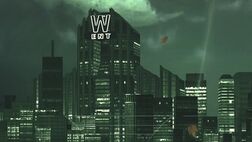 Wayne Enterprises is a famous company in the Arkhamverse, owned by Bruce Wayne and ran by his business manager, Lucius Fox. The company was based at Wayne Tower which was located at the heart of Gotham City, on Miagani Island.
History
Wayne Enterprises was founded by the merchant ancestors of the Wayne Family in the 17th Century, although the company changed when Alan Wayne, the heir of Judge Solomon Wayne, utilized his father's wealth and established the Wayne Shipping Company and also the Wayne Chemical Company in Gotham City.
Thus, Wayne Enterprises was officially established in the 19th Century. By the beginning of the 21st Century, Wayne Enterprises reached a new annual income average of over $3 billion. The company eventually branched off into every possible industry such as Technology, Biomedical, Medical, Cosmetics, Motors, Aerospace, Applied Science, Shipping, and Electronics. Dr. Thomas Wayne served as the Chairman of the Board of Directors until his murder and was replaced by his son, Bruce. Bruce occupied the main office several floors up and had a personal elevator.
Incident Reports
Before Arkham Origins Incident
Years later, Bruce returned to Gotham. He took on what most critics called a "figurehead position" as joint CEO at Wayne Enterprises, as he maintained a public image of a billionaire playboy. Bruce took an immediate interest in the Applied Sciences Division and adapted many of its shelved prototypes for his arsenal as Batman.
Arkham Origins Incident
Wayne Tower could be seen from both Old Gotham and New Gotham, as well from the Gotham Pioneers Bridge between them. Lucius donated the WayneTech security gates that were used around Arkham Island.
Arkham Asylum Incident
The building could be seen from Arkham East at Arkham Asylum. Upgrades provided from WayneTech could be downloaded by Batman as well as numerous Wayne Tech Security Consoles . It was also a Riddler Challenge to scan the building.
Arkham City Incident
The building could be seen from Arkham City, and like its predecessor, the Wayne Tech Security Consoles were present and there were also upgrades that were provided from WayneTech in the game.
Before "Arkham Knight" Incident
Many of the company's prototypes and schematics where stolen by the Arkham Knight such as the Batsuit, Batmobile, and Gadget Schematics during his fact finding mission.
Arkham Knight Incident
The building was finally able to be visited. You were able to access the penthouse on the roof, where Lucius worked. The building was on Miagani Island and it was the tallest building in Gotham. On Founders' Island, there was another tall Wayne Enterprises building: Wayne International Plaza. It too ended up raided by Hush, while incognito as Bruce Wayne as part of his vendetta, with Batman being forced to expose his secret identity to stop him. Because of that, Hush wasn't delivered to the GCPD Lockup, but was instead locked in the vault under Wayne Enterprises for the duration of the incident, as delivering him to the GCPD Lockup would result in the GCPD investigating Bruce Wayne.
Its Applied Science Division was also the subject of a possible business deal with LexCorp, although Bruce was implied to have repeatedly refused to let the company buy it out.
GCPD Lockdown Incident
After The Knightfall Protocol, Lucius owned Wayne Enterprises (though it is unknown how and why). The company's current status is also unknown after Knightfall.
Company Personnel
Executive
Thomas Wayne - Former CEO/Owner
Bruce Wayne - Former CEO/Owner ( After Knightfall )
Lucius Fox - Current Owner/CEO ( Formerly the CFO )
Employee
Lucius's PR
Unknown Engineers ( See Arkham Knight City Stories, Bruce and Lucius ).
Products
WayneTech Security Consoles
Gallery
Behind the Scenes
The scene when Batman and Ra's al Ghul fell from Wonder Tower before it exploded, Wayne Enterprises was seen from Arkham City next to Batman grabbing Ra's.
Trivia